Yay!! Spring!!! We can finally replace the shelf we keep our Ugg boots on with our favorite sandals, so… let's dust off our outdoor areas and enjoy the warmth! Do you have a comfortable place for your family to enjoy the summer season outdoors? No? Well, let's make one! It's really easy!
Here is the plan…Let's measure your space and design it! I'll draw a quick floor plan, and we will talk about how you want to use the space. I would want to know how many people you want to seat, how you want the area to function, and some idea of what you want to spend to attain your goals. We will look at some furniture options,and select a color palette you are comfortable with. We will maybe even add an outdoor rug for color or softness…Then, WAA-LAA! We have achieved the ultimate place to enjoy two of the reasons we all love to live at the foot of the Smoky Mountains… the weather and the scenery! ( Well, we also love it here because the nicest people in the world live here, and now you can invite them over for a cookout!)
Here is a recently designed outdoor room from ROOST. Everything here can be washed with even the harshest bleach, but still looks like furniture that could easily be used indoors. These washable, slipcovered sofas in sunbrella fabric are cozy and beautiful. The rocking club chairs can swivel for a pool view. The outdoor rug softens the stone floor and brick walls and pulls all of the subtle colors together.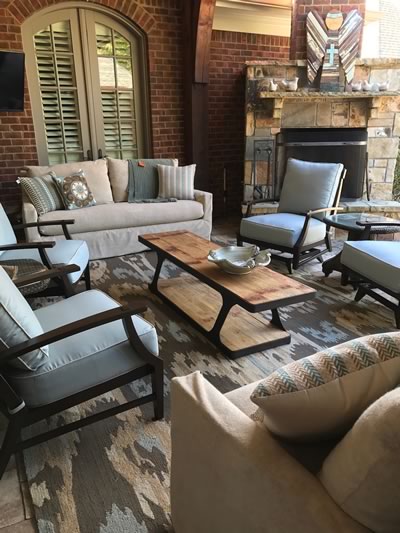 Here is a screened room we installed for a young couple who LOVE to entertain and have fun! My client requested," Paula, the brighter the better!" The bold area rug and the pillows brought life to an otherwise brown space. When I asked her recently about the new space she said, " We absolutely live out there!" I believe that! I would too. 🙂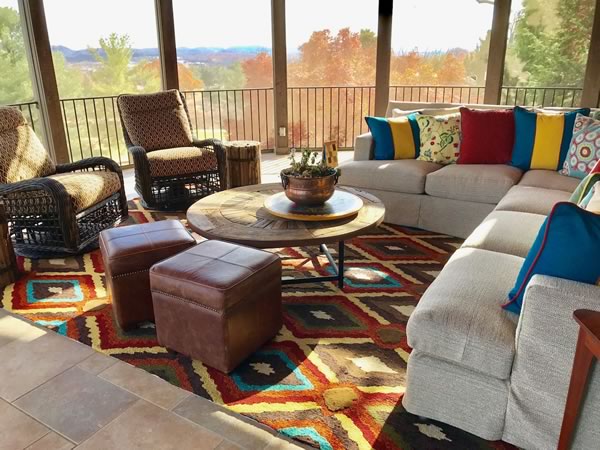 One good piece of advise for outdoor furniture is to make sure you buy quality furniture…. (unless of course, you want to replace it every few years which is very costly.) Even if you want to invest slowly, choose quality manufacturers proven to last. Good quality outdoor furniture is not inexpensive, but will be far less expensive in the long run because it will last for years and years. Like I have mentioned many times about furniture, if something is really cheaply priced, that tag reflects the quality and craftsmanship every single time.